I søndags kom der et engelsk 3-mands hold og tog fotos og video udefra til billedsiden i en 3-minutters video med interviews med fokus på "… the tradition and culture of design in Denmark".
Se mere nedenunder, og evt. også et par højkvalitetseksempler på designselskabet Identity´s tidligere produktioner.
med venlig hilsen
på bestyrelsens vegne
Egon Hedegaard
PS: Identity-Design har skrevet til os: "We would be happy to share the content captured with you upon completion… ". Det vil vi gøre her på hjemmesiden.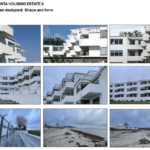 Kopi af designselskabet Identity´s mail
Good afternoon,
I hope all is well.
I have been passed your contact details from the Gentofte Municipality, regarding gaining permission to capture footage of the Bella Vista Housing Estate. Please see below the full list of details. We are in Copenhagen and plan to film this weekend, so appreciate this is short notice and that we need to act quickly.
To give you a little background information, we are Identity, a creative design agency in London, and we are working with VOLA (https://en.vola.com/), Anne-Louise Sommer (from the Danish design Museum) and Jane Sandberg (CEO of Enigma Museum of Post, Tele and Communication) to create a 2-part 3-minute film discussing the tradition and culture of design in Denmark.
We recently filmed an interview with Jane and Anne-Louise Sommer from the Design Museum, on behalf of VOLA, the renowned Danish tap manufacturer, about culture in Denmark and how important and integral it is to the Danish way of life.
We would love to be able to supplement the film with additional footage that supports the interview and their comments relating to the culture in the country. We feel that the Bella Vista Housing Estate would be perfect for this. I have attached a document with images, so you have an idea of what we would like to shoot.
…
The resulting film would be shown in the On Design section of the VOLA website and also on their social media feeds. The estate would be credited and linked to as appropriate.
Below are some examples of other films we have produced for VOLA so that you have an idea of the quality of the content and film.
Jonas Bjerre-Poulsen (Norm Architects) – Danish design and the future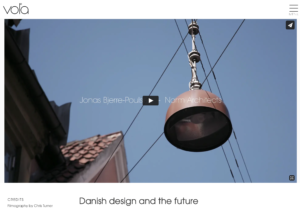 Lasse Anderson (KUNSTEN Museum of Modern Art + Utzon Center) – The Danish Sommerhus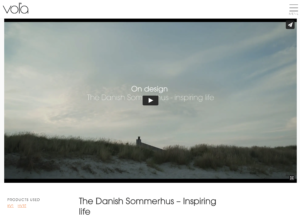 Ilse Crawford (Studio Ilse) – Wellness and Wellbeing, focusing on the Ett Hem hotel in Stockholm
My team are currently in Copenhagen and hope to film at the estate on Sunday 13th February. I know it is quite short notice so we would appreciate hearing back from you as soon as you can.
…
I look forward to hearing from you.
Very best wishes,
Amber
Amber Carter
amber@identity-design.co.uk
og her er en takkemail efter besøget:
"…
I hope you're well!
I just wanted to pass on a very big thank you from myself and the team for acting so quickly and allowing us to not only visit and capture footage at the Bella Vista Estate, but also to have taken the time to show Tess the apartment and even discuss its history and all the amazing facts about Arne's work. It was a pleasure for them to meet you and spend time at Bella Vista.
They managed to capture everything they had hoped to, so thank you so much for being so accommodating. We can't wait to share with you what we have filmed! We will be in touch with the final edit so you can see how we have used the footage from the Bella Vista Estate.
…..
Many thanks,
Amber
Amber Carter
amber@identity-design.co.uk